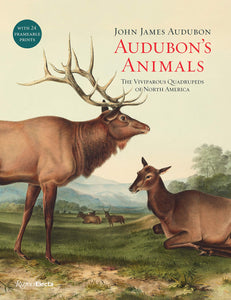 Audubon's Animals: The Viviparous Quadrupeds of North America
Regular price $50.00 Sale
Introduction by Kristofer M. Helgen
Plates by John James Audubon
Reproduced from an archival copy, this handsome boxed set includes a new edition of John James Audubon's classic work on animals along with twenty-four facsimile prints suitable for framing.
Following the success of his Birds of America, John James Audubon set out to document North America's mammals--many never before depicted or seen outside of their native habitat--in the breathtaking color and detail that was his trademark. First published in 1854, Audubon's portraits of the nation's native mammals are still considered by many to include the finest animal prints ever published.
To create this edition of Audubon's classic work, the original archive edition housed at London's Natural History Museum has been specially photographed and each of the 150 hand-colored prints painstakingly reproduced. The book also includes information on the current biological names and conservation status for each species, as some have sadly become extinct or endangered since Audubon's time, making this a welcome addition to the collections of bibliophiles and nature lovers alike.
160 pages
Hardcover, 2019
Dimensions: 11 x 14"