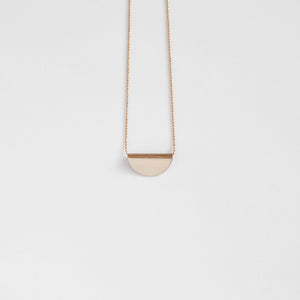 Felm Half Moon Necklace
Regular price $36.00 Sale
Brass half moon necklace

Details and Finishings
-Each piece is handmade. Please expect slight variations between each item and the photograph in the listing.
-Raw brass pendant is polished with a protective wax.
-Chain is 24K gold plated brass.
Care
-Handle with care and avoid striking against hard surfaces.
-By nature, all brass will eventually darken over time but can be maintained and polished back to its original shine with a simple smooth buffing pad or polishing cloth (sample included). Oxidation can be slowed by avoiding wet and humid conditions.
-Chain is made from 24K gold plated brass and while no care is needed, it's generally recommended to avoid wet and humid conditions.
Dimensions: pendant: 7/8" x 3/8"; chain length: 16"; chain thickness: 1mm ball chain